December 22, 2011
21 December 2011
Wow, we're here. Nine months of travelling. 11500Kms cycled. Memories that will last a lifetime.
I can remember the 22nd of March as if it were yesterday, and now today I sit on the end of the continent typing this blog. Its been one helluva ride. But before I get all sentimental lets take a look at our experience in country number ten, Egypt!
We left Aswan and basically followed the Nile on its course north to Cairo. In between we stayed in several towns, both small and large, and had experiences both good and bad.

Egyptian Hospitality
Leaving Aswan I really hated Egypt, or rather the modern day Egyptians. Let me recount a little experiment I tried whilst in Aswan: After noticing that many Egyptians assumed I was local, up until I spoke that is, I decided not to speak at all when buying stuff from a shop. And so I went to shop down the road, picked up a Mega ice cream (which up until that point we thought was a standard price of EP5), paid the man EP5 and left. After leaving I heard the shopkeeper say something to me in Arabic, I turned around and realised that he wanted to give me change – turns out the Egyptian price for Mega ice creams is EP4! The very next day I returned to shop to buy another ice cream, only this time I came with my loaded bicycle (we were on our way out of Aswan), and this time she shopkeeper tried to charge me EP!0 and insisted that I was wrong in saying it was EP4 – I swore him, took my money and left. And this basically been our experience with many Egyptian shopkeepers. In fact, we've discovered that they even have Arabic and English menus with the Arabic prices a lot cheaper than the English menu ones! We've worked out how to read Arabic numbers and now play the game a little smarter with these thieves.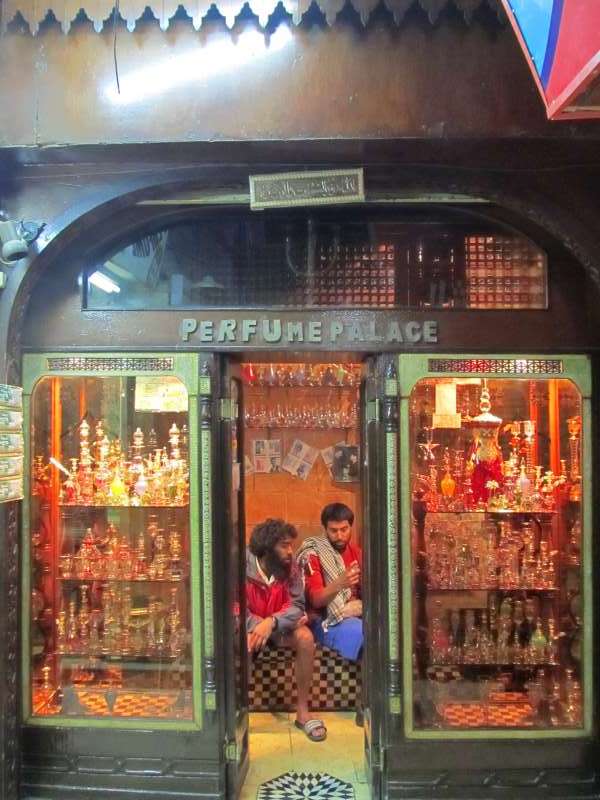 Cairo: Shopping was often an exhausting process

But then Egypt isn't all bad, it does have its amazing history that surrounds you as pass by along the Nile. The modern day Egyptian is indeed most fortunate and should be very grateful to their countrymen who built the pyramids, temples, and tombs – if it weren't for these attractions I doubt many tourists would visit a country where hospitality is still a concept that many have yet to learn.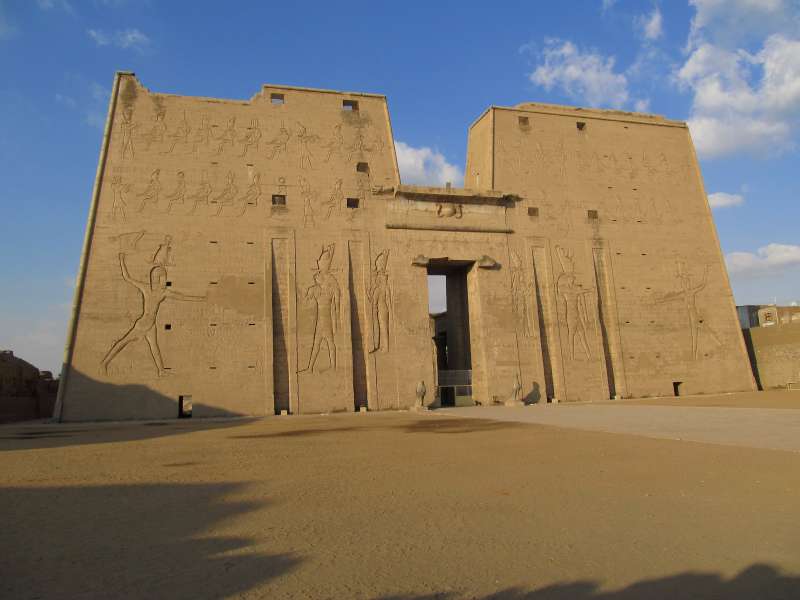 Edfu Temple - breathtaking in its size


Damn, I was trying not to be negative, but it really is hard. Ok, we did meet a few really good people. We found the Nubian communities (southern Egypt) to be friendly and extremely hospitable. We also made friend in a really good guy called Mohammed Samy. We first met Mohammed on the ferry from Wadi Halfa to Aswan, he's an Egyptian who hails from Alexandria. We ended up visiting him in Alexandria where we were hosted by Mohammed and his mother – who spoilt us fantastic food. In fact Alexandria as a whole was a great town to visit and for the first time we felt that shopkeepers weren't trying to rip us off.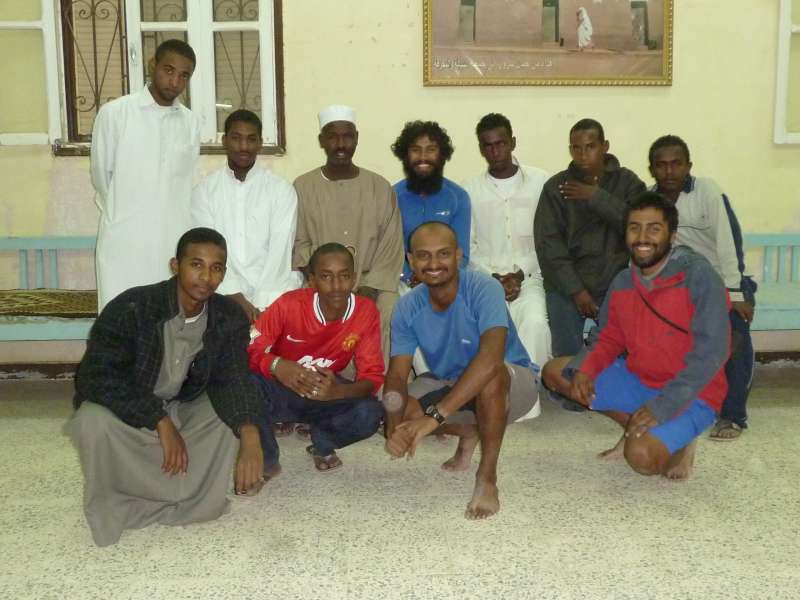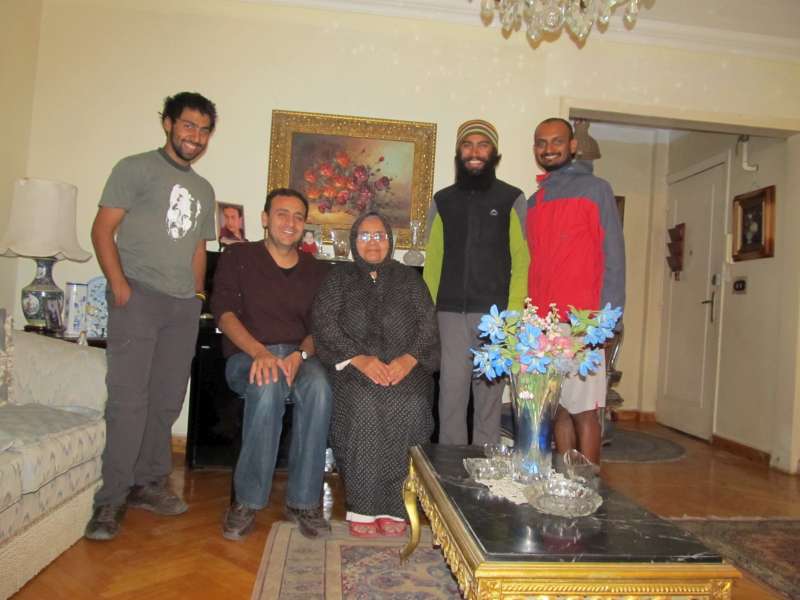 Nubian Hosts Alexandria: Mohamed and his mum


Anyway, I'm losing myself here. Back to the trip. We left Aswan and travelled north along the tarred road hugging the nile. It really was good cycling with some really special scenery, for example, on several occasions we passed by mountains with stunning man made caves that must date back thousands of years. It was a pity that we didn't get a chance to visit these caves as more often than not we had a police escort! After Aswan our next big town was Luxor – a town full of history with the breathtaking temples of Karnak and Luxor, the lane of sphinxes linking the two temples, and of course the many other including the Valley of Kings on the west bank. Fortunately we found a cheap good hotel in the not so tourist part of Luxor, and had a great couple days in this little town.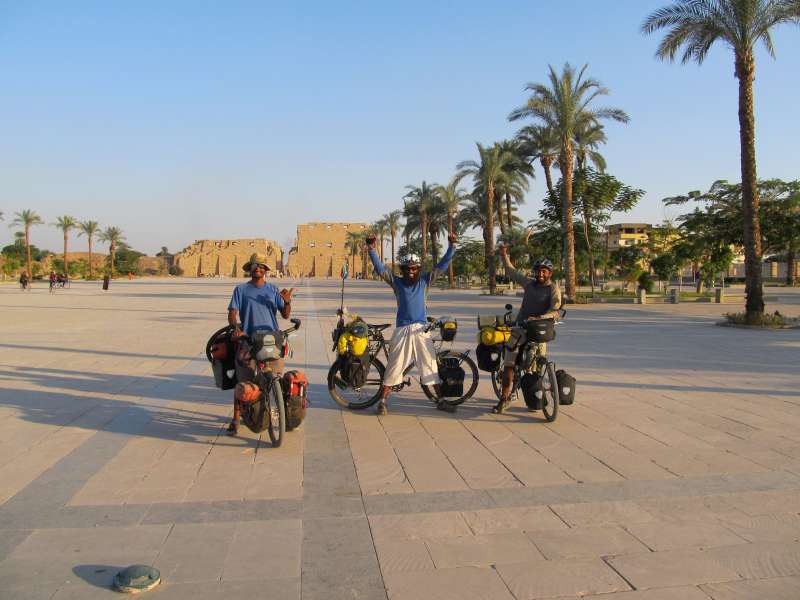 In Luxor - In front of the Karnak Temple


From Luxor out next big stop was Asyut – not much to do in this town but given that we were doing great time and kilometers (thanks to the police escorts) we decided to stay for a few days in Asyut and did nothing more than eat pizza (at a little takeaway which has the best pizzas in the world!), ice cream, and sit on the internet. It was a nice break from the cops.
The Egyptian Police
Its hard to place judgement on the police. Their insistence on escorting us was usually annoying and unwelcome. But then, it couldn't have been too much for them either having to drive at 15kph behind three cyclists! There were times where they were extremely good to us, once even letting us sleep in a cell and getting us supper, and there were times when all they wanted to do was get us out of their district. We were once moved three times at night, they were times when they lied to us and forced us to keep cycling after dark, and then there were times when they gave us tea and a place to rest. And of course, we weren't killed by crazy extremist so maybe they were useful.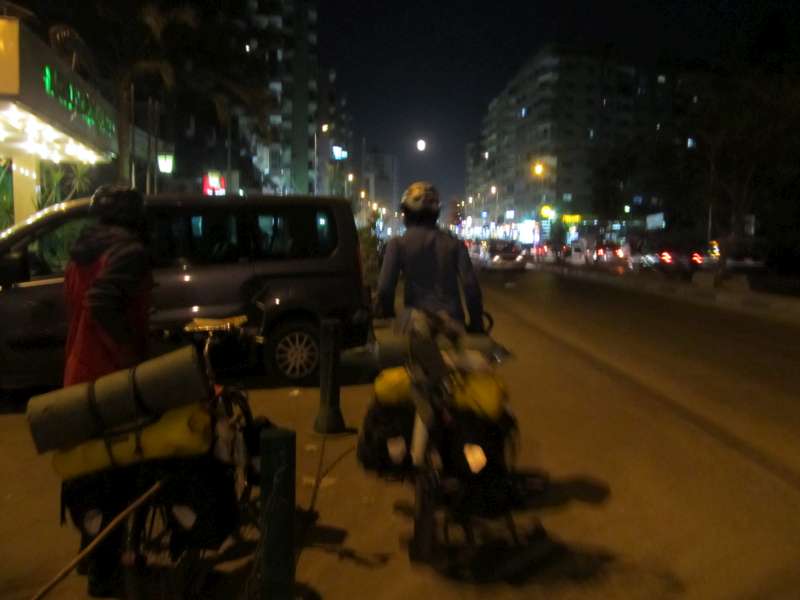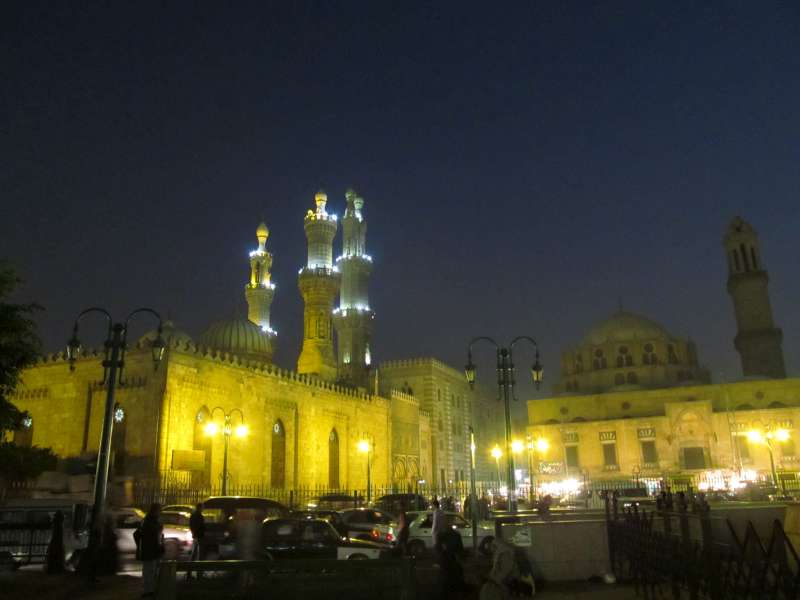 Cairo: Night cycling Cairo: Khalili Bazaar Mosque

The End

A few days after Asyut, we arrived in Cairo. Eight and half months, 11 500kms, 10 countries... and on Monday morning, the 12th December 2011, we cycled into Cairo. First stop was the South African Embassy (the embassy is in the southern part of Cairo and so it made logistical sense to visit them first) – oh how good it was to hear South African voices again. Being our last embassy visit (we tried to visit the SA Embassy in the countries we'd been through), it was a bit of a surprise when we were told that the Ambassador would see us. And so we ended up having juice with the Ambassador. Our embassies abroad are just another example of what a great country we come from.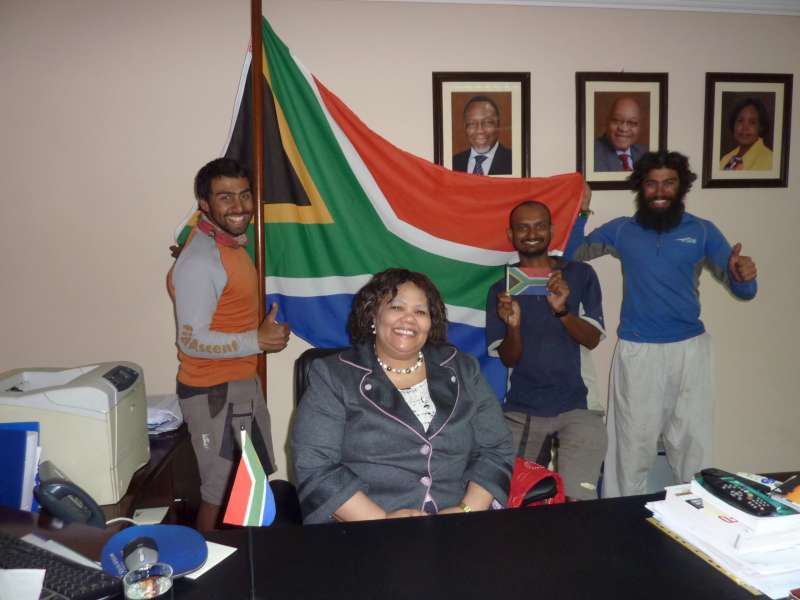 With Ambassador Noluthando Mayende-Sibiya in Cairo

We left the embassy with lifted spirits and made headed straight for the pyramids. Not being allowed to take the bicycles into the pyramids area was a bit disappointing, so instead we hung out in the car park and took loads of photos with the great Khufu Pyramid in the background (the largest of the three famous pyramids in Giza).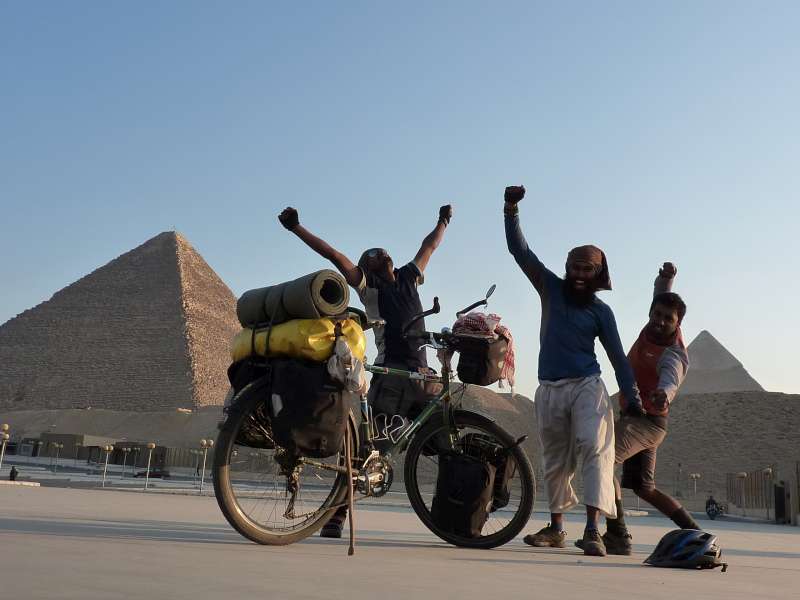 Excitement outside the pyramids
What's next
The real world unfortunately. As I finish this blog its Wednesday, the 21st December 2011, tomorrow will mark nine months since leaving Cape Town on that cloudy day in March. What then seemed like an enormous task is now over. We've all had a really great experience, one that probably has changed our lives, and hopefully has made us made us better people. The latest figures put the Hear Us donations at just over three hundred thousand rand. Not much in the greater scheme of things but still hopefully the start of something that will make a difference in the lives of our fellow human beings.

Thank you
A great big thank you to every one of you. There's so many people to thank: friends, family, donors, strangers who took us in, new friends who shared homes and lives with us, supporters, Fine Young Africans (who sponsored our successful summit up Kilimanjaro), Nature Fresh (who kept us supplied with herbal meds throughout our trip), the embassy officials who genuinely cared, the countless smiling faces and waving hands of the locals who make a travel across Africa a truly memorable experience, the government officials who helped us through and encouraged us in every country (contrary to what many people expected, we weren't asked for a and didn't pay a single bribe), the media who've given us coverage throughout the way, the facebook messages, the guest entries on the website, the sms's, emails, and phone calls, and even those who thought we wouldn't make it.
Its been one helluva ride!

Ria
Posted by Ria Moothilal. Posted In : On the road